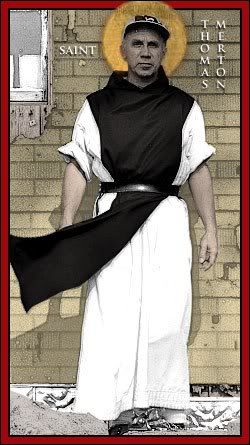 Since June 6, I have read a lot of spiritual books, but none has touched me more than the work of Thomas Merton. A Franciscan Friar I am friendly with at Saint Peter's in the Loop introduced me to Thomas Merton a couple of years ago. In a documentary entitled
Merton: A Film Biography
, one of the interviewees said when a person reads a work of Thomas Merton that person will become addicted. I second that.
Like me, Father Louis (Merton's religious name) grew up in a secular household and environment. Like me, he knew from childhood that he wanted to become a writer. Like me, Merton committed acts in his childhood and young adulthood that shamed him. And like me, God always haunted him.
Merton's writing would be welcome to any person no matter his or her spiritual leanings or lack thereof. So far I have read
The Seven Storey Mountain
,
No Man Is an Island
, and a collection of his work on writing taken from his books, essays, journals, and letters entitled
Echoing Silence
.
Merton's writing and spirituality matured from TSSM. Perhaps the biggest lesson I have learned and am working to ingrain within me is being silent. This helps writing and, of course, becoming closer to God.